FRENCH international SCHOOL
Welcome to Ecole Francophone de Luang Prabang
LEARNING FOR A MEANINGFUL LIFE
About
accreditation
The EFLP employs fully qualified native teachers for each language. Our school is accredited by the Agency for French Education Abroad (AEFE), with 566 schools worldwide. AEFE is one of the largest educational networks in the world, operating in 138 countries.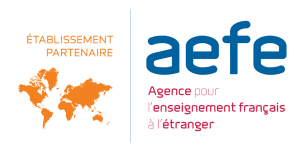 MULTILINGUAL
The EFLP is unique. Your child does not need to understand the French language to join our school. Our programme takes a whole child approach to learning and development. When they commence, we will provide an individual learning programme to study subjects and create fluency in French, English, and Lao.
Our School
The French International School was founded in 2014 as a private initiative, with the aim of expanding the educational and extracurricular standards for students in Luang Prabang. EFLP offers a complete curriculum, from kindergarten to 12th grade.
We welcome you to learn more about us! 
Why the French Education System?
A Word
From Our Director
"It is with great pleasure that I welcome you and your family to the Francophone School of Luang Prabang in Laos.
I am very proud to be the director of the EFLP, with a dynamic and multilingual team, and I hope that with our quality teaching, our passionate teachers, and our natural and friendly environment, you will find what you are looking for in your child.
I look forward to getting to know you and welcoming your family to the EFLP. "
What a pleasure to see our little girl go to school with so much joy and the desire to learn!
This dynamic school is welcoming, warm and benevolent. She is open, attentive, and offers constructive dialogue with the families. We can see our little girl flourish and assert herself in this rewarding environment adapted to everyone, and it is a chance to see her happy and to see her evolution in this school. We would like to express our full appreciation and gratitude to the team for their contribution. Thanks to this school for existing!
Colette and Christian
Grandparents of Amélie (CP)
EFLP is an extraordinary schooling environment. The smaller size allows for more teacher attention and a community feel. All children get to interact in activities such as gardening, cooking, and special projects. This encourages the younger children to develop their social skills and the older children to demonstrate greater levels of maturity. 
Our daughter & son who entered the school in Year 6 with no French language skills, are now in their final year completing the Baccalaureate, an internationally recognized qualification.  
Children who spend any length of time at EFLP benefit from a unique educational experience that will allow them to adapt to any new school or work setting worldwide and serve them well for the rest of their lives.
Susie Martin, Steven McWhirter & Rachel O'Shea

Hunter Matusow is a wonderful example of how a new child has excelled at EFLP. Hunter joined EFLP in February 2022 for pre-school (MS) and he is now enrolled in the final year of pre-school (GS). When he first arrived, he could not speak French, and no one in the family could speak French either. Congratulations Hunter on such a stellar progress report!
EFLP Administration

Student Life
EFLP takes a holistic whole child approach to learning. The aim is to develop altruism and sensitivity to cultural differences. Our teachers awaken students' curiosity and strengthen their self confidence while preparing them for a world full of new challenges.
Academic Standards
EFLP offers a complete curriculum, from kindergarten to 12th grade and we follow an internationally accredited curriculum, taught by fully qualified teachers.
Association of Parents of Students
Our activities are governed by a non-profit association, the Association of Parents of Students (APE – EFLP), officially registered in France. Any parent of a student becomes a member of the Association and can decide to get involved in the development and management of the school. Every quarter, a general meeting brings together all the members. Important decisions and the appointment of the management committee (executive board) are put to the vote.
After School Programme
EFLP plans to expand activities in the coming months. Currently the school offers:
– Daycare in the afternoons until 4:30 p.m
– Drama Club every Wednesday afternoon
Technology In the Classroom
All primary classes are equipped with computers and video projectors.
In secondary school, students use their personal computers for CNED courses.
Teaching with and about digital technology is an integral part of the elementary and secondary school curriculum.
School Meals
Every Friday, the meal preparation is done by a group of students as part of the morning's educational activities.
This "cooking at school" project is an integral part of our morning educational activities. Learn more about EFLP student life.